Sprout Organic Foods Shuns Federal Oversight Committee Examining Heavy Metal Content in Baby Foods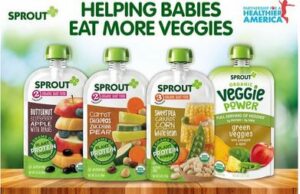 The research group Healthy Babies Bright Futures published a report in October 2019 that found 95% of the baby food products sold in the U.S..contain toxic levels of four heavy metals – mercury, arsenic, lead and cadmium. Exposure to these in babies results in IQ loss, attention deficits, learning and behavioral problems not to mention cancers.
Shifting the IQ curve down nudges more children into special education, and ratchets down the IQ of the most creative and intellectually gifted children. For an individual child, the harm appears to be permanent.
It's not surprising that the U.S. House of Representatives Subcommittee on Economic and Consumer Policy convened a study shortly after the October 2019 report was published. The ECP sought to understand the failings inherent in this self-regulated industry that would impose no federal standard on, or permit no warning to parents and caregivers about these toxins – especially given the devastating effects these toxins have on our children and economy.
The ECP study was voluntary. A request was made to seven of the largest manufacturers of baby food in the United States, including both makers of organic and conventional products:
Nurture, Inc. (Nurture), which sells Happy Family Organics, including baby food products under the brand name HappyBABY
Beech-Nut Nutrition Company (Beech-Nut)
Hain Celestial Group, Inc. (Hain), which sells baby food products under the brand name Earth's Best Organic
Gerber
Campbell Soup Company (Campbell), which sells baby food products under the brand name Plum Organics
Walmart Inc. (Walmart), which sells baby food products through its private brand Parent's Choice
Sprout Foods, Inc. (Sprout Organic Foods)
Four of the companies—Nurture, Beech-Nut, Hain, and Gerber—responded to the Subcommittee's requests. They produced their internal testing policies, test results for ingredients and/or finished products, and documentation about what the companies did with ingredients and/or finished products that exceeded their internal testing limits.
Walmart, Campbell, and Sprout Organic Foods refused to cooperate with the Subcommittee's investigation. In fact, Sprout Organic Foods was the only company that did not respond to the committee at all. Despite numerous emails to executives and its general information email address, as well as numerous attempts to reach the Sprout central office by telephone, Sprout never responded or made contact with the Subcommittee.
Whether due to evasion or negligence, Sprout's failure to respond raises serious concerns about the presence of toxic heavy metals in its baby foods, as even limited independent testing has revealed the presence of toxic heavy metals in its products.
Parents trust manufacturers to sell baby food that is safe, nutritious, and free from harmful toxins, contanimants, and chemicals. We rely on manufacturers to honestly report on its label what its products contain. Anything less is a violation of this trust.
>>To Join an Action Against Sprout Organic Foods Click Here<<
I invite readers to comment below on your views of an industry that is allowed to self-regulate, to manufacture baby food to no federal standard, and to not require any labeling informing consumers of toxic chemicals in its products.
Tags: Arsenic &nbsp Baby Food &nbsp Brain Development &nbsp Cadmium &nbsp Heavy Metals &nbsp IQ &nbsp Lead &nbsp Mercury &nbsp Sprout &nbsp Toxic &nbsp