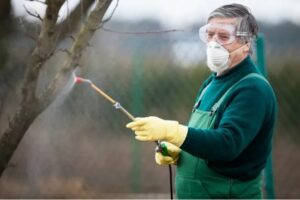 Exposure to Paraquat is know to increase the risk of Parkinson's disease. As such, it is dangerous to human health and unfit to be marketed and sold in commerce – particularly so without proper warnings and directions as to the dangers associated with its use.
Nature of Action:
This case arises out of the Defendants' wrongful conduct in connection with the design, development, manufacture, testing, packaging, promoting, marketing, advertising, distribution, and sale of paraquat dichloride, also known as paraquat methosulfate ("Paraquat").
Status of Paraquat Lawsuits:
Lawsuits are being reviewed for –
Farmers and Farm Workers
Herbicide Applicators
Tank Filers and Transporters
Gardeners, Groundskeepers and Municipal Workers
Families Living Around Farming Communities
and others who have experienced medical problems.
Consultations and case evaluations are currently being provided to determine if financial compensation and settlement benefits will be available to those individuals diagnosed with Parkinson's disease following exposure to the herbicide.
>>SUBMIT INFO ABOUT A PARAQUAT PARKINSON'S CASE<<
Defendants:
Chevron Phillips Chemical Company LP
Syngenta Crop Protection, LLC
Syngenta AG
and other companies that have sold a variety of paraquat-based herbicides, including:
Gramoxone
Paraquat Concentrate
Blanco
Cyclone SL 2.0
Other Paraquat-based Herbicides
Overview:
Paraquat is a herbicide used for weed and grass control and has been in use the the US since 1961. Worldwide, it is one of the most commonly used herbicides. It is known to be very toxic, with a high risk of paraquat poisoning if not handled appropriately.
As a result, Paraquat is a "Restricted Use Pesticide" (RUP) in the United States, and can only be purchased, mixed or applied by licensed paraquat applicators. It also has a color dye applied to make sure it is not confused with coffee, with a sharp odor added and a chemical agent that causes someone who ingests it to vomit. However, those precautions may not be enough to protect users from the health risks linked to Paraquat exposure.
The U.S. Centers for Disease Control and Prevention (CDC) warns that Paraquat can enter the human body through absorption or penetration of the skin, as well as through mucous membranes, airways, cuts and abrasions, and via breathing it into the body or digestion through droplets introduced via the mouth, nose or airways.
Paraquat Parkinson's Disease Risk:
Paraquat exposure can result in devastating health consequences for those who are exposed to the toxic pesticide, particularly licensed applicators who work with it on a regular basis. It has been linked to several serious health effects, including:
Parkinson's Disease
Heart Failure
Kidney Failure
Liver Failure
Lung Scarring
Parkinson's disease is one of the most concerning risks associated with Paraquat, as the manufacturer has not adequately warned about this problem. It is believed that Paraquat creates oxidative stress in cells, which kills certain brain cells associated with the production of dopamine, which can lead to Parkinson's disease.
Parkinson's disease affects about 1 million Americans, and at least 6 million other people worldwide. The association between Paraquat exposure and Parkinson's disease is so strong that scientists use Paraquat to induce Parkinson's disease in animals for testing purposes.
Tags: Gramoxone Heart Failure Herbicide Kidney Failure Liver Failure Lung Scarring Paraquat Parkinsons Disease