AFFF Firefighter Cancer Lawsuits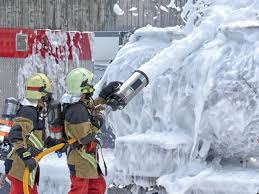 Exposure to aqueous film-forming foams (AFFF) used to fight fuel-based fires may be responsible for causing testicular cancer, kidney cancer and other cancers among firefighters, military service members and airport personnel.
STATUS FIREFIGHTING FOAM LAWSUITS: Product liability lawyers are reviewing individual fire fighter foam cancer lawsuits and potential class action claims for individuals who exposed to AFFF in recent years, seeking financial compensation and settlement benefits for injuries that may have been avoided if warnings and safety recommendations had been provided.
OVERVIEW: Aqueous film-forming foams (AFFF) have been used to fight petroleum-based fires since the 1960s, by both military and civilian firefighting organizations. However, even since they first went into use, a growing body of scientific evidence has indicates that chemicals in the fire suppression foam may increase the risk of cancer, contaminate drinking water supplies, and persist in the environment and human body for years.
A number of studies warn about the link between cancer and firefighting foam, which contains per- and polyfluoroalkyl substances (PFAS), including perfluorooctanoic acid (PFOA) and perfluorooctane sulfonic acid (PFOS). These "forever chemicals" can bind to proteins in the blood, and accumulate in the body with each exposure to the fire foam, regardless of how small the level.
Studies have linked exposure to PFAS chemicals in AFFF to an increased risk of:
Kidney cancer
Testicular cancer
Prostate cancer
Breast cancer
Liver cancer
Ovarian cancer
Non-Hodgkin's Lymphoma
Despite the science indicating a risk to human health
and the environment, numerous manufacturers continued to make and sell the foam to fire fighting agencies and the military, knowing they would see widespread use and accumulation in the environment.
While these man-made chemicals were not widely seen in the human body before the commercial development of firefighting foams in the 1960s, some studies have suggested that 99% of all Americans now have PFAS present in their bodies.
For firefighters, military and airport personnel regularly exposed to these chemicals in AFFF foam, the cancer risk may have been avoided if warnings and information had been provided by the manufacturers.
FAILURE TO WARN FIRE FIGHTING FOAM LAWSUITS: As a result of the failure to thoroughly research film-forming foam or adequately warn about users, the public, and regulatory agencies, financial compensation may be available through a fire fighting foam lawsuit.
If information about the risks of cancer from aqueous film-forming foams had been provided, many firefighting organizations would have likely chosen another fire suppression means, or taken steps to avoid the type of exposure that may lead to the diagnosis of cancer among firefighters and others who come into contact with the chemicals.