Nurture Baby Food's Deceptive Marketing Results In Higher Prices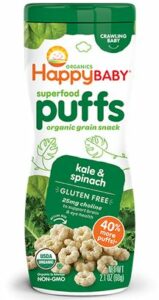 Nurture Inc. joins the ever increasing list of baby food companies hit with consumer lawsuits in the wake of a House subcommittee report concluding that seven major baby food brands contain "significant levels" of heavy metals.
Nurture Inc.marketing emphasizes the desirable health and nutrition attributes of its Happy Baby and Happy Tot line of organic products, Nowhere in its labeling does it inform consumers they contain dangerous amounts of heavy metals. Instead, "their labels specifically state what harmful elements they do exclude – GMOs, non-organic ingredients, toxic persistent pesticides and packaging made without BPA, BPS, or phthalates."
Testing of Nurture's products has found heavy metal levels above federal safety limits as shown in the table below.
Nurture Inc's. Baby Food Heavy Metal Content
Heavy Metal
FDA Recommended Max
parts per billion (ppb)
Nurture Internal Standard
parts per billion (ppb)
Nurture Products
parts per billion (ppb)
Arsenic
100
115
100 - 180
Lead
0
-
10 - 641
Mercury
2
-
10
Cadmium
3 - 5
-
> 5
Marketing the product through affirmative statements,half-truths and omissions is designed to extract from its customers a premium price for its products. There is evidence that shows the higher the price, the more misleading are the representations and omissions.
This deceptive labeling practice is rampant in the baby food industry. Lawsuits are being filed across the country that seek to eliminate this practice. Make your voice heard by joining onto a lawsuit. There is no cost to you.
Tags: Arsenic &nbsp Baby Food &nbsp Cadmium &nbsp Heavy Metals &nbsp Lead &nbsp Mercury &nbsp Misleading Advertising &nbsp Nurture &nbsp