OakBend Medical Center Ransomware Attack Exposes Over 1 Million To Identity Theft Featured
OakBend Medical Center, a Richmond Texas based medical provider, announced that it was the target of a ransomware attack over the September Labor Day weekend.
According to reports, the attack was first noticed on Sept 1st 2022 when files on its network were shown as encrypted. The IT infrastructure was immediately taken offline while authorities investigated.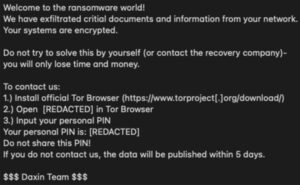 In a Sept 9th 2022 update, OakBend Medical Center advised that a ransomware gang was responsible for the attack but failed to name who. A ransomware expert subsequently announced on twitter that a group calling itself  Daixin Team was responsible.
Ransomware Gang Claims To Have Stolen OakBend Data Belonging To Millions Of Citizens.
Daixin posted on its website that it claims to have stolen from OakBend data belonging to millions of US  citizens. Patient and employee data include –
name
date of birth
medical record numbers
patient account numbers
Social Security numbers
medical and treatment information.
According to the report the group has uploaded some of the stolen data to its data leak site and are threatening to release all of the stolen files unless OakBend Medical Center pays a ransom.
On October 11, 2022, the Texas healthcare facility notified its customers of emails sent by "third-parties" regarding the cyber attack, stating it's directly informing affected patients, in addition to offering free credit monitoring services for 18 months.
Tags: daixin team &nbsp data breach &nbsp Data Privacy &nbsp ransomware &nbsp