Zantac MDL Moving Forward With Expert Support That Heartburn Drug May Cause Five Specific Types Of Cancer Featured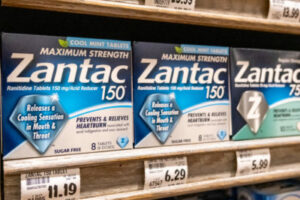 Plaintiffs' attorneys involved in the federal multidistrict litigation (MDL) for all Zantac cancer lawsuits filed throughout the federal court system have notified the Court that they only intend to move forward with expert support that establishes five different types of cancer may be caused by Zantac, including bladder cancer, esophageal cancer, gastric cancer, liver cancer and pancreatic cancer.
Zantac (ranitidine) was a popular heartburn treatment used by millions of Americans before it was recalled from the market in late 2019, following a discovery that the active pharmaceutical ingredient is inherently unstable, and produces high levels of the chemical byproduct N-Nitrosodimethylamine (NDMA), which is a potent human carcinogen.
GlaxoSmithKline, Boehringer Ingelheim, Pfizer, Sanofi and various other manufacturers, distributors and retailers involved in the sale of brand name Zantac or generic ranitidine pills now face more than 100,000 product liability claims brought by former users who allege Zantac caused cancer as NDMA moved through the body, following years of exposure.
Given common questions of fact and law raised in the litigation, all Zantac cases brought throughout the federal court system are centralized before U.S. District Judge Robin L. Rosenberg in the Southern District of Florida, who is presiding over coordinated discovery and pretrial proceedings, including a series of early "bellwether" trials that are designed to help the parties gauge how juries are likely to respond to certain evidence and testimony that will be repeated throughout the claims.
Initially, attorneys appointed to leadership roles in the Zantac MDL indicated that they would be presenting expert testimony that supports NDMA in Zantac may cause ten different types of cancer. However, in a Final Disclosure (PDF) released on January 25, the plaintiffs' leadership advised that they will only be providing general causation expert reports for five types of cancer.
Claims involving allegations that Zantac caused other cancers, including breast cancer, kidney cancer, colorectal cancer, prostate cancer and lung cancer will not be supported in the Zantac MDL.
The disclosure comes as the drug makers prepare to challenge the ability of plaintiffs' to present expert causation testimony during Daubert proceedings, which provides the Judge presiding of the Zantac MDL the opportunity to exclude any expert testimony that is not deemed sufficiently reliable or based on sound scientific evidence.
Zantac Cancer Risks
Public concerns about the link between Zantac and cancer first emerged in September 2019, when an online pharmacy discovered that each pill may expose users to high levels of NDMA, which is a known carcinogen often used to cause cancer in laboratory animals.
While the FDA has found that the daily safe limit for NDMA exposure in pharmaceutical drugs is only 96 nanograms (NG), pills tested by the independent pharmacy found that users may be exposed to more than 3 million nanograms from each Zantac pill.
Investigations have confirmed the problems were not caused by contamination or changes in the manufacturing process, but appear to be part of the inherent molecular structure of the active pharmaceutical ingredient in Zantac, ranitidine.
Plaintiffs allege the manufacturers of Zantac knew or should have known about these problems for decades, yet aggressively marketed and sold brand-name prescription, generic and over-the-counter versions of Zantac for years, without warning users that it may NDMA may may develop as the pills sit in storage or travel through the body, increasing the long-term risk of cancer from Zantac.
If plaintiffs are able to overcome challenges from the drug makers regarding the admissibility of expert witness testimony regarding these five types of cancer, it is expected that the Court will schedule a series of early bellwether trial dates in the Zantac MDL.
While the outcome of the individual test trials will not be binding on other cases, they will be closely followed and could have a significant impact on settlement negotiations. Following coordinated pretrial proceedings before Judge Rosenberg, if the parties fail to reach Zantac settlements or another resolution for the claims, thousands of individual cases may end up remanded back to U.S. District Courts nationwide for individual trial dates in the coming years.
Tags: Cancer &nbsp Drug Recall &nbsp GlaxoSmithKline &nbsp Heartburn &nbsp Heartburn Drug &nbsp NDMA &nbsp Sanofi &nbsp Zantac &nbsp