Manufactures of Elmiron Failed To Properly Test Bladder Medication – Lawsuit Featured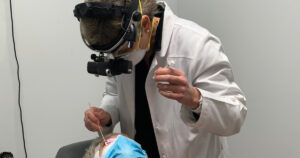 According to allegations raised in a recently filed product liability lawsuit, a Minnesota woman developed a unique eye injury from Elmiron, indicating that manufacturers of the bladder pain drug failed to adequately evaluate the potential side effects before it was introduced and sold to consumers.
The lawsuit is pursuing claims against Janssen Pharmaceuticals, Ortho-McNeil Pharmaceuticals, Inc., Alza Corporation, and Johnson & Johnson for failing to warn about the risk of eye injury and the need for medical monitoring while taking the medication.
Elmiron (pentosan polysulfate sodium) is a prescription medication approved for treatment of interstitial cystitis, or painful bladder syndrome, which is often taken by users for years, since there is no underlying cure for the condition.
The lawsuit claims that as a result of taking Elimron from 2001 to 2019, the plaintiff developed a form of Elmiron eye injury which is unique to the bladder pain drug, and now commonly referred to as pentosan polysulfate sodium (PPS) maculopathy, resulting in pigmentary changes to the retina that can cause vision loss, difficulty adjusting to dark light and blindness.
Although independent studies and case reports published over the past decade have described cases of irreversible Elmiron eye damage, the first warnings about the risk of vision impairment and the importance of monitoring for retinal changes was not added to the FDA label warnings until last year. As a result, many doctors remained unaware of the connection between Elmiron and eye damage until recently, leading many users to continue taking the medication even after they developed signs or symptoms of vision side effects, further worsening the permanent damage to the retina.
The lawsuit contends that at all relevant times, Defendants failed to warn, instruct, advise, educate, or otherwise inform Elmiron users, Elmiron prescribers, or United States governmental regulators about the risk of eye injury or the need for medical and ophthalmological monitoring.
The lawsuit also notes the risk of Elmiron eye problems should be unsurprising, given the lack of adequate testing done by Janssen before the drug was released onto the market. The complaint notes that Janssen acknowledges it does not fully know how Elmiron works and admits the drug "has low bioavailability, is poorly absorbed from the gastrointestinal tract, and cannot be reliably assayed by determining serum levels."
This means doses of Elmiron must be large and frequent, with users having to ingest doses of 100mg three times per day for at least three to six months before the drug even takes effect. Even then, according to some studies, pain relief only occurs in 40% to 60% of patients.
According to the lawsuit, Janssen failed to conduct pharmacokinetic and pharmacodynamic testing of the drug, and even urged against such testing, noting that "there is no known pharmacodynamic marker other than clinical effect measured as reduction of pain" despite these being commonly used drug testing techniques meant to determine how a drug interacts with the human body, which could reveal potential adverse side effects.
Hundreds of similar Elmiron eye injury lawsuits are being pursued throughout the federal court system by individuals previously diagnosed with age-related macular degeneration and other retina conditions, which are now recognized as Elmiron-associated maculopathy. Given common questions of fact and law, the cases have been centralized as part of a federal multidistrict litigation (MDL) in the District of New Jersey.
Following coordinated discovery, it is expected that a series of "bellwether" trials will likely be scheduled to help gauge how juries respond to certain evidence and testimony that is likely to be repeated throughout the litigation. However, unless the drug makers are able to negotiate Elmiron settlements or establish that they can consistently defend the safety of their drug at trial, hundreds of individual cases may later be remanded back to U.S. District Courts nationwide for individual jury trials nationwide in the coming years
.
Tags: Elmiron &nbsp Interstitial Cystitis &nbsp Janssen &nbsp Johnson & Johnson &nbsp Pigmentary Maculopathy &nbsp Teva Pharmaceuticals &nbsp Vision Loss &nbsp