Lawsuits Allege JUUL Addiction Responsible For Chronic Lung Condition and Behavioral Issues Featured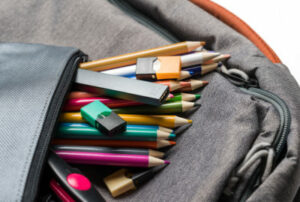 Olga Demidova, a Cleveland Ohio mother on behalf of her minor child, recently filed a product liability lawsuit (PDF) alleging her child suffered a severe JUUL nicotine addiction due to the deceptive and illegal marketing of the vape pens towards minors, causing her child to develop chronic lung problems and severe behavioral issues.
A similar complaint (PDF) filed by Kimberly Hixson in the U.S. District Court for the Northern District of California, San Francisco Division.is pursing damages against JUUL Labs, Ploom, Inc. and Altria Group and a number of subsidiaries, such as Philip Morris USA, as well as some of the tobacco company's officers and investors. According to the lawsuit, the Plaintiff developed severe anxiety and chronic lung problems after using JUUL products over an eleven month period in 2019.
JUUL was introduced in 2015, but quickly became the most widely used vaping product on the market, following a marketing scheme that promoted the controversial vape pod toward young users, creating new nicotine addictions that are expected to drive JUUL sales for decades.
Nicotine warnings were first added to JUUL products in 2018, long after a new generation of teens in the United States became addicted to vaping. Each JUUL pod is the equivalent of about an entire pack of cigarettes, yet they were marketed as a safer alternative to smoking and were promoted for user by teens, young adults and prior non-smokers.
The addictive JUUL pods are designed to look like USB drives, allowing students to hide their vaping habit from teachers, parents and other adults. The high levels of nicotine delivered by each pod, have resulted in a new generation of Americans left with a life-long nicotine addiction.
JUUL Vaping Addiction Epidemic
FDA data indicates teen e-cigarette use has reached epidemic levels in the United States, and JUUL Labs has been accused of fueling the growing teen nicotine addiction problems in the United States.
In addition to designing JUUL to look like a USB thumb drive, the manufacturer also marketed and sold JUUL pods in various candy-like flavors, which has resulted in a large number of teens and prior non-smokers starting to vape, and developing addictions to the high levels of nicotine contained in the pods.
In September 2019, the FDA issued a warning letter to JUUL, indicating there was evidence it told school-aged children that its products were safer than cigarettes, which has not been proven.
The Demidova and Hixson complaints join a growing number of JUUL addiction lawsuits and class action claims that have been filed nationwide. Given similar questions of fact and law raised in cases brought throughout the federal court system, the JUUL litigation has been centralized before U.S. District Judge William H. Orrick III in the U.S. District Court for the Northern District of California, which is where JUUL Labs, Inc.'s San Francisco headquarters are located.
As lawyers continue to review and file claims for JUUL addictions in the coming months, the litigation is expected to continue to grow, and is likely to encompass tens of thousands of complaints.
Tags: Children &nbsp Drug Addiction &nbsp Electronic Cigarettes &nbsp Juul &nbsp Nicotine &nbsp Vaping &nbsp