JUUL and E-Cigarette Lawsuits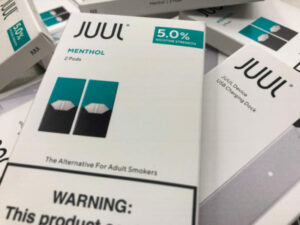 Over 1,10 lawsuits have been filed nation wide amid concerns over the health risks with JUUL vape pods and other e-cigarettes, especially among teens and previous non-smokers who have now become addicted to nicotine. 
STATUS OF JUUL VAPE LAWSUITS: Given similar questions of fact and law presented in complaints filed throughout the federal court system, the litigation has been centralized for discovery and pretrial proceedings before U.S. District Judge William H. Orrick III in the U.S. District Court for the Northern District of California, which is where JUUL Labs, Inc.'s San Francisco headquarters are located.
>>SUBMIT INFORMATION FOR REVIEW BY AN E-CIG LAWYER<<
On December 15, 2020, the parties issued a joint notice (PDF) announcing the 12 cases which have been randomly selected to make up the bellwether trial pool.
In late August 2020, Judge Orrick indicated the first bellwether trials will begin in February 2022, following a case-specific discovery process and future challenges to the admissibility of expert witness testimony.
While the outcomes of these early bellwether trials will not be binding on other claims pending in the federal court system, they will be closely watched and may greatly influence any JUUL settlements offered by the manufacturer to avoid the need for hundreds of individual trial dates in the coming years.
OVERVIEW: Electronic Cigarettes have been introduced by a number of different manufacturers over the past decade, initially marketed as a safer alternative to smoking traditional cigarettes. However, with the introduction of JUUL vape pods and other flavored e-cigarettes that were specifically targeted toward teens and non-smokers, federal health regulators indicate that there is now a growing epidemic of youth e-cigarette addiction nationwide.
The devices work by heating either liquid or crystalline nicotine into an inhalable vapor. These nicotine products are sold in a variety of flavors, including fruity or candy-like combinations that are meant to appeal to teens and non-smokers. In some cases, they are even sold in containers that look like juice boxes, USB drives or other things children would use and can conceal from parents or teachers.
While the manufacturers have provided false and misleading information that suggests vaping is safer, side effects of JUUL and other e-cigarettes may cause users to suffer serious respiratory and heart problems, including:
Heart Attack or Myocardial Infarction
Hospitalization with Pneuomonia
Hypersensitivity Pneumonitis
Eosinophilic Pneumonia
Chronic Obstructive Pulmonary Disease (COPD)
Advanced Asthma
Nicotine Addiction
Wrongful Death
JUUL VAPE ADDICTION PROBLEMS: Following the introduction of JUUL vape pens or vape sticks in 2015, use of e-cigarettes has increased sharply nationwide, especially among teens and students. JUUL pods are designed to look like USB memory sticks, and the vapors are almost invisible.
This has led to teens publishing videos on social media showing them vaping in groups in school bathrooms or even behind teachers' backs in classrooms. It has also led to a growing number of nicotine addictions among teens at an early age.
In addition to their appeal due to their design, JUUL vapes may be more addictive than even other electronic cigarette devices.
A study published in October 2018 in The BMJ found that JUUL vaping pods deliver nicotine in a salt form which contains twice as much nicotine as traditional cigarettes and is highly addictive.
In November 2018, JUUL acknowledged its products had a problem attracting teen users, and removed some of its flavored products from retail stores and put them behind an age verification system on its website. The company also removed much of its social media from the internet.
However, facing criminal investigations that it marketed to children, JUUL announced in late September 2019 that it has ceased all advertising in the United States.
In addition, as of December 2019, the U.S. Centers for Disease Control and Prevention (CDC) indicated it and state health agencies had received reports of more than 2,500 cases of lung injury related to vaping nationwide. The illnesses, which remain unexplained, have also been linked to more than 50 deaths.
In October 2019, a former JUUL executive filed a whistleblower lawsuit indicating the company had knowingly sold at least a million contaminated vape pods to the public. At about the same time, the company announced it was withdrawing all non-traditional flavored products from sale online.
Several states, including Michigan, New York, California, Oregon, Rhode Island and Massachusetts, have moved to temporarily or permanently ban some or all vaping products. Federal regulators say a ban of flavored vaping products is on the horizon.
JUUL AND E-CIGARETTE CLASS ACTION LAWYERS: As a result of JUUL and other e-cigarette manufacturers' apparent efforts to market their products toward children, their links to respiratory problems and addiction, financial compensation may be available through an electronic cigarette lawsuit.
If proper marketing, research and other safeguards had been provided, many children would have never used, become addicted, or suffered health problems from JUUL and other e-cigarette products.