NHTSA Investigating Honda Accord Steering Problems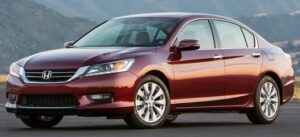 According to the Associated Press, the National Highway Traffic Safety Administration is investigating multiple complaints about steering failures that could affect more than 1.1 million Honda Accord sedans.
The NHTSA says it received 31 complaints about the problem and Honda has 77 more. Drivers reporting the issue experienced "a loss of steering control and the cars veering from their intended travel path."
The issue appears to apply to 2013-2015 Accords, and so far, two accidents and two injuries have been reported. The NHTSA "opened the probe after getting a petition from an owner in October of last year. Center for Auto Safety director Jason Levine said Monday, "With over 100 complaints into an incredibly scary situation – suddenly losing the ability to steer your car while driving – we are glad to see NHTSA undertake a complete analysis of this hazardous situation to determine if a recall is necessary."
There have been 107 incidents involving steering reported to the agency or Honda, according to NHTSA, including two incidents which involved crashes and injuries. No deaths have yet been reported.
This is only an investigation at this point — not a recall of the possibly affected vehicles.
"Honda takes all safety-related concerns seriously and will continue to cooperate with the NHTSA through the investigation process, as we also continue our own internal review of the available information," Honda said in a statement Monday.
Despite US car buyers shifting preference away from sedans and towards SUVs, the Honda Accord is still one of the best-selling vehicles in the country. There are an estimated 1.1 million of these vehicles on US roads, according to the agency.
Tags: Honda Accord &nbsp NHTSA &nbsp Steering Defect &nbsp