Zoll Medical Data Breach Exposes Over 1 Million Patients To Identity Theft Featured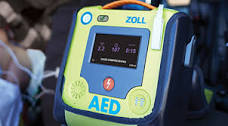 Zoll Medical Corporation, a company that provides medical devices and software solutions for advanced emergency care, including cardiac monitoring, oxygen therapy, ventilation, data management, and more, recently reported that it suffered a data breach and that the protected health information of more than 1 million patients was stolen.
What Happened?
According to a notification letter issued by Zoll to affected individuals –
"On January 28, 2023, we detected unusual activity on our internal network, and we promptly took steps to mitigate the incident. We consulted with third-party cybersecurity experts to assist with our response to the incident, and we notified law enforcement. We determined that your information may have been affected on or about February
2, 2023. Our investigation into the incident is ongoing."
What Information Was Involved?
According to the letter information obtained by the hackers includes –
Name
Address
Date of Birth
Contact Details
Social Insurance Number
"It may also be inferred that you used or were considered for use of a Zoll product," the company also says.
Zoll Silent On Cause That Lead To Hack
It's unclear what type of cyber attack Zoll fell victim to and whether ransomware was deployed on its systems.
Zoll says it has no indication that the exposed information was misused. However, it is not uncommon for cyber criminals to share or trade stolen personal information on underground forums, and then use it in attacks such as phishing, identity theft, and the like.
The company informed the Maine Attorney General's office on March 10, 2023 that just over one million individuals were impacted by the breach, all of whom have been offered free identity protection services for a period of two years.
Know Your Rights
f you received a data breach notification from ZOLL Medical Corporation, it is essential you understand what is at risk and what you can do about it.
Medical device manufacturers collect and retain an extensive amount of information about patients and consumers and should take every possible precaution to keep this data secure. However, many consumers affected by the recent ZOLL data breach have begun questioning the company's commitment to data security. This is the second major breach reported by Zoll in the last four years.
To learn more about how to protect yourself from becoming a victim of fraud or identity theft and what your legal options are in the wake of the ZOLL Medical Corporation data breach, please complete the form below.
Case Status: Open – Not Accepting New Clients
Tags: cyber attack &nbsp data breach &nbsp Identity Theft &nbsp Personal Identifying Information &nbsp Zoll Medical &nbsp