FCA Fraudulently Breached Pacifica Hybrid Minivan Warranty – Lawsuit Featured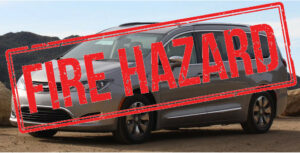 Fiat Chrysler Automobiles (FCA) is again under scrutiny by federal regulators and lawmakers. And yet again its due to the dangerous electrical defect in its Chrysler Pacifica Hybrid minivans. According to a recent lawsuit, these hybrid vehicles are prone to spontaneously ignite, catch fire and explode – even when parked unattended with the ignition switched "off".
While FCA contends that the root cause of the fires is unknown, it appears overwhelmingly likely that the defect is connected to the vehicles' high-voltage batteries used to propel the vehicles when they are operating in electric mode.These batteries are manufactured by LG energy Solution (LGES). LGES also made the batteries that caused fires in GM Bolt electric vehicles and Hyundai electric vehicles.
Stunningly, many of the affected vehicles have already been recalled twice to remedy other defects that also create a risk of fire. The first such recall came in 2018 and the second in 2020. At the time, independent forensic testing of the vehicle hybrid propulsion system revealed that the 12-volt battery isolator post in defective vehicles can experience a high-resistance electrical connection. High resistance electrical connections can lead to prolonged heating and fire, regardless of whether the vehicle is on or off.
The complaint alleges that the propulsion system defect was long known to FCA yet it chose to conceal it from consumers along with the serious safety hazard and monetary harm these vehicles present to owners and others in proximity to an ignition event.
Though FCA admits to having received reports of a dozen fires connected with the hybrid propulsion system since 2019, it waited until February 2022 before issuing a recall of Pacifica Hybrid Vehicles for models years 2017 and 2018. However, FCA is not offering owners and lessees of affected vehicles any remedy. Instead FCA "is advising owners of these hybrid vehicles to refrain from charging them, and to park them away from structures and other vehicles." 
Not only does FCA warn against owners charging the electrical system, it does not explain what owners should do with their vehicles if they have no such place to park their vehicles. This places an unfair burden on owners and lessees who are unable to use the electric propulsion system they paid a premium for and are unable to park in their garage.
The lawsuit alleges that FCA has breached its warranty with owners and lessees who through no fault of their own must now incur out of pocket expenses resulting from the defect including repairs, car rentals, car payments, towing charges, property damage and time off work. These costs are in addition to the loss of the premium paid for a hybrid vehicle as well as the lower trade in cost of a dangerously defective hybrid vehicle.
The lawsuit seeks to remedy consumers and lessees of affected vehicles. Such remedies include –
recovery of the purchase price of affected vehicles, or the overpayment of and diminution in value of affected vehicles.;
damages.
Case Status: Open – Not Accepting New Clients
Tags: Breach of Warranty &nbsp FCA &nbsp fire-hazard &nbsp LGES batteries &nbsp Minivan &nbsp Pacifica Hybrid &nbsp