Wisconsin Looks to Regulate Use Of Toxic Chemicals Found In Firefighting Foam Featured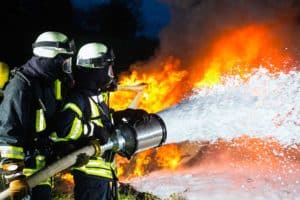 Amid growing concern that over the past year hundreds of wells across the state of Wisconsin have been found to be contaminated with toxic PFAS chemicals used in some firefighting foams, state officials will hold a final public hearing this week to determine if it too should adopt new safety standards restricting the use of these so-called "forever chemicals."
The public hearing (PDF) is being held by the Wisconsin Department of Natural Resources tomorrow, to review a proposed rule that set standards for two types of per- and polyfluoroalkyl substances (PFAS), including perfluorooctanoic acid (PFOA) and perfluorooctane sulfonic acid (PFOS). If approved, Wisconsin would join a growing number of states that are restricting use of the chemicals, which are polluting soil and waterways throughout the state.
PFAS were first introduced into the manufacturing industry in the 1940's, because of their ability to resist heat, grease, stains, and water. However, since then the chemicals have been linked to a myriad of adverse health effects including liver damage, thyroid disease, decreased fertility, high cholesterol, obesity, hormone suppression, and cancer.
The chemical substances are used to manufacture a number of products, including some food packaging materials, pizza boxes, popcorn bags, fabrics, nonstick cooking pans, and other products.  However, it is perhaps most known for its use in firefighting through the use of aqueous film-forming foams (AFFFs) used by military and civilian firefighters, which has dumped the largest volume of the chemicals into local water supplies near airports and training facilities.
A number of warnings have been issued over the past few years about the dangers of widespread PFAS contamination, which now impact drinking water wells throughout the state of Wisconsin.
In August, 533 private wells were tested on French Island in Wisconsin, and all but 12 showed traces of PFAS contamination, with more than 30% containing levels considered unsafe for drinking water. In July, the City of Eau Claire discovered four of the city's 16 wells contained high levels of PFAS and had to be shut down.
Last year, the Wisconsin Department of Natural Resources proposed a limit of 20 parts per trillion on the two most well-studied PFAS chemicals, PFOA and PFOS. It is the latest in a string of states which have decided to tackle PFAS contamination on their own through various regulations, including Michigan, Minnesota, New York, Maine and others.
In July, Maine put in place a ban on PFAS which will go into effect by 2030. New York set guidelines in January which set limits on allowable concentrations on some PFAS chemicals.
At the federal level, the U.S. Environmental Protection Agency (EPA)  announced a Strategic Roadmap in October, which is designed to address problems with PFAS chemicals. The plan includes new reporting requirements and restrictions, increased research, and accelerated cleanup operations. The EPA also plans to develop timelines for setting enforceable drinking water limits for PFAS, a hazardous substances designation, a review of past PFAS rules which may not be protective enough, increased monitoring, data collection and research, a toxicity assessment and efforts to construct a technical foundation for the analysis of PFAS air emissions.
Chemical manufacturers now face a growing number of firefighting foam lawsuits brought by nationwide, including individuals diagnosed with with cancer after exposure to the chemicals in their drinking water, as well as firefighters directly exposed during training and response exercises.
Details on how to participate in the public hearing on January 6 at 1 p.m. are available in the public hearing notice linked above.
Tags: Cancer &nbsp Chemicals &nbsp Drinking Water &nbsp EPA &nbsp Firefighter Foam &nbsp PFAS &nbsp Water Contamination &nbsp Wisconsin &nbsp