FDA Finds OTC PE Tablet Decongestants Completely Ineffective Featured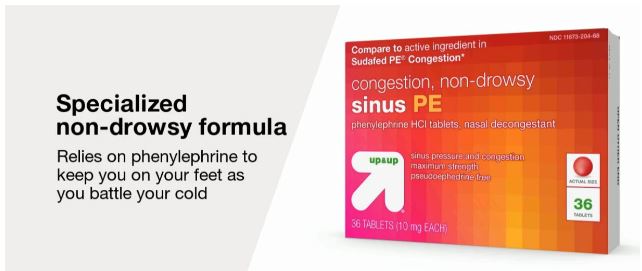 For decades manufacturers of cold medications charged consumers premium prices for nasal decongestants they knew were completely ineffective.
The U.S. Food and Drug Administration (FDA) Nonprescription Drug Advisory Committee (NDAC) recently informed the FDA that the decongestant phenylephrine, found in many over-the-counter (OTC) cold and flu medications, is no more effective than a placebo.
The revelation spawned numerous class action lawsuits alleging that for decades unwitting consumers paid premium prices for medicines that manufactures knew did not work.
Phenylephrine Is Ineffective When Taken Orally.
According to one lawsuit, since at least 2007, scientific studies using modern testing methodologies and rigors have, time and again, shown that phenylephrine taken orally is ineffective. However, rather than acknowledge the truth of these studies, manufacturers have continued to market and sell their products with phenylephrine as an effective decongestant medicine.
As one pharmacist who led the examination of the efficacy of phenylephrine summarized it, "if you have a stuffy nose and you take this medicine, you will still have a stuffy nose."
What remains to be seen is, given the NDAC's report, whether or not the FDA will recall these drugs from the market.
What Medications Are Found To Be Ineffective?
Phenylephrine is found in many popular over-the-counter oral medications that purportedly act as a decongestant. Last year alone, U.S. sales amounted to nearly $1.8 billion across 250 products. Popular among these products are –
Mucinex Sinus Max (Reckitt)
Sudafed PE (Kenvue/McNeil)
Tylenol Cold & Flu Severe (Kenvue/McNeil)
Benadryl Allergy Plus (Kenvue/McNeil)
Theraflu Severe Cold Relief (GlaxoSmithKline)
Vicks Nyquil Severe Cold & Flu (Procter & Gamble)
Vicks Nyquil Sinex (Procter & Gamble)
Sinus PE Non-Drowsy Congestion Relief Tablets (Target)
Wal-Phed PE Nasal Decongestant Tablets (Walgreens)
Wal-Phed PE Sinus Congestion Day & Night Tablets (Walgreens)
Nasal Decongestant PE Tablets (CVS)
12 Hour Nasal Decongestant Tablets (CVS)
Equate – Suphedrine PE (Walmart)
Equate – Day & Night Sinus (Walmart)
Class Action Seeks To Compensate Consumers
The common theme of the class actions filed is that had consumers known that phenylephrine tablets were ineffective as a nasal decongestant, they would not have paid the premium prices manufacturers charged or would not have purchased them at all.
The lawsuit seeks to hold manufacturers of phenylephrine based decongestant tablets to account for their deceptions, breaches of warranties, unjust enrichment, fraud by omission and violations of consumer protection statutes.
If you purchased phenylephrine based decongestant tablets you may be entitled to an award. To join the class action please fill out the form below.
---
Tags: Class Action &nbsp decongestant &nbsp Fraud &nbsp kenvue &nbsp Sudafed &nbsp