Ohio Homeowners – Get Help Fighting Underpaid Home Insurance Claims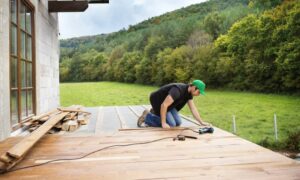 Homeowners who suffer property damage—including water damage, storm damage, roof leaks, or other types of property damages—can file claims to their home insurance companies to reimburse them for repairs. However, some homeowners allege that insurance companies are underpaying those claims and the cost of repairing property damage to their homes.
In response, some homeowners may want to consider enlisting the help of a homeowners insurance attorney, who can help make sure they are properly compensated for the home insurance claims.
What Can You Do?
Attorneys are currently investigating claims by homeowners in Ohio who have been underpaid by their home insurance companies.
You may qualify if under the following circumstances:
Homeowners who have suffered property damage
Who have filed a first-party home insurance property claim to their home insurance companies
Were underpaid their claim due to a depreciated cost of labor for repairs by their insurance companies
If all three of the above scenarios apply to you, you may qualify to join this nationwide class action lawsuit investigation into underpaid home insurance claims and seek compensation.
 Fill out the form below for a free case evaluation. If you qualify, an experienced home insurance claim attorney will contact you to discuss the details of your potential case at no charge to you.

Underpaid Home Insurance Claims
Homeowners rely on their insurance companies to provide coverage for property damage and other issues that affect their property. However, insurance companies all too often seem to be more attentive to their bottom lines than they are to the people and businesses to which they provide coverage.
One way that insurance companies allegedly shortchange policyholders is by selling "replacement cost" insurance that allows them to pay only the "actual cash value" (ACV) of a claim until the policyholder replaces or repairs the property damage. Some insurers are reportedly not only depreciating physical costs of the property, but also depreciating labor costs without warning policyholders that they would do so.
In April 2019, the Tennessee Supreme Court ruled that home insurance companies cannot depreciate labor costs when considering cash value for a property damage claim.
The homeowners in the case reportedly suffered damage to their properties and submitted an insurance claim, but their insurance company reportedly calculated the replacement cost of the damaged property then subsequently depreciated both labor and material costs. Accordingly, the homeowners sued the insurer and argued that the insurance company's practice of depreciating labor costs constituted a breach of their contracts.
This is merely one example of a home insurance company underpaying their policyholders. A current class action lawsuit investigates how widespread this practice may be, seeking potential plaintiffs nationwide who may have been the target of underpaid home insurance policy claim schemes.
What is the Home Insurance Claim Process?
When a homeowner experiences property damage, they can file a claim with their insurance company. Before filing a home insurance claim, the property owner should review their insurance policy to determine what's covered or excluded from coverage.
The most important part of making an insurance claim is documentation, including records of who you've talked to, the details of your conversation, as well as the date and time of the conversation. It is also important to determine whether there is a time limit that restricts the timeframe in which you are allowed to submit a claim.
It is always a good idea to document the extent of the property damage in case your insurance company pays you less than expected.
Depending on the nature of your home insurance claim, you may need to follow certain steps. If necessary, such as in cases of theft or vandalism, you may need to report the situation to the authorities.
You'll need to contact your insurance company to file a claim. An insurance adjuster will be assigned to the case and will be responsible for assessing the extent of the damage and estimating the costs.
In the meantime, you should consider making temporary repairs to your home in order to make it habitable. Keep detailed records of the costs of repairs, including materials and labor costs. Provide this information to your insurance company so that it can reimburse you for the costs. Documentation here is extremely helpful to attorneys fighting for your underpaid home insurance policy claim.
If you need to relocate temporarily because your home is uninhabitable, keep track of all of your lodging and food expenses so that you can submit them to your insurer for reimbursement.
What is the Depreciation of Labor?
Depreciation is typically deducted from the ACV of the property when a property owner elects to have their property damage claim paid on an ACV basis.
Most people expect that depreciation includes the cost of materials, but courts are reportedly divided on the issue of whether the cost of labor can also be depreciated.
In February 2020, the North Carolina Supreme Court determined that depreciation included the cost of labor, according to the National Law Review. In that case, the insurance company calculated the ACV cost by depreciating the cost of labor and materials, and the court found that the company's endorsement for roof damage which defined ACV reasonably applied throughout the policy.
The 6th U.S. Circuit Court of Appeals reached the opposite conclusion, however, finding that an insurer who deducted both material and labor as part of the depreciation cost when calculating the property damage claim was not necessarily entitled to do so under Ohio law.
Tags: Home Insurance &nbsp insurance &nbsp Insurance Claims &nbsp Ohio &nbsp Property Insurance &nbsp