Capital One Utilizing Bait And Switch Tactics That Lower Credit Scores – Lawsuit Featured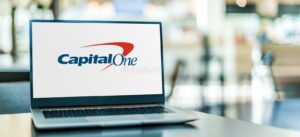 A class action lawsuit was recently filed against Capital One Financial Corp. alleging that the credit card company utilizes a "bait-and-switch" tactic to entice customers into applying for a Capital One credit card.
Capital One represents uniformly in its advertisements and marketing that customers can get pre-approved for a Capital One credit card, a process which would not affect their credit score.
According to the lawsuit, the Plaintiff was looking for credit card information online when he found an advertisement for a Capital One Walmart Card. He clicked a link that said "See if You're Preapproved" and was subsequently informed that applying for pre-approval would pose "no risk to your credit score."
After he pressed the "Apply Now" button and completed the application process, he received a notification that his Capital One credit card application was denied. He also found Capital One had conducted a hard inquiry and soft run of his credit report.
Capital One Bait-And-Switch Scam Harms Consumers
Plaintiff maintains he did not intend to apply for a Capital One credit card. If he had known Capital One would pull his credit report by simply applying for pre-approval, he says he would not have applied for pre-approval.
According to the lawsuit,  Plaintiff's credit score dropped by approximately seven to ten points after he submitted his application for pre-approval.
The Plaintiff says he was the victim of a bait-and-switch scheme in which Capital One seemingly offered him an opportunity to find out if he was pre-approved for a credit card but in reality he was tricked into completing a credit card application that adversely affected his credit.
This alleged bait-and-switch scheme violates the Fair Credit Reporting Act (FCRA), the New Jersey Fair Credit Reporting Act, the New Jersey Consumer Fraud Act, and New Jersey's Truth-in-Consumer Contract, Warranty, and Notice Act, according to the Capital One class action lawsuit.
The Capital One class action lawsuit was filed on behalf of proposed class of consumers in the United States who applied for pre-approval for a Capital One credit card and experienced a hard pull on their credit as a result.
Tags: bait-and-switch &nbsp Capital One &nbsp credit &nbsp credit score &nbsp