Ontario Law Firm Takes On Manufacturers Of Infant Formula That Causes NEC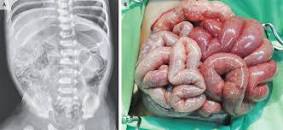 Did your child develop necrotizing enterocolitis (NEC) from baby formula in the hospital? If so, you have claim for compensation. Gluckstein Lawyers, a nationally recognized Canadian law firm, is preparing to take on the manufactures of these baby formula products.
Infant Formula Companies Engage in False And Deceptive Marketing
As reported by the World Health Organization, "formula milk companies… run advertising that routinely mischaracterizes scientific findings": "It's time to stop infant formula marketing practices that endanger children", 14 March 2022, World Health Organization. As reported by the World Health Organization, "Some of the false claims used by formula milk companies include:
 Formula products with added ingredients improve brain development and immunity
 Formula products are needed after 12 months of age;
 That breast milk is inadequate for the nutrition of older infants and children;
That formula keeps babies fuller for longer and therefore helps them sleep; and
 That the quality of breast milk declines with time."
Current complaints against infant formula makers Abbott Laboratories and Mead Johnson & Company allege these companies were aware of risks associated with their products, including the risk of NEC, and failed to warn consumers of the danger.
What is NEC?
Many babies born prematurely or underweight are fed such infant formulas in Neo-Natal Intensive Care Units (NICUs) in order to help their undeveloped bodies grow properly. Some of those infants go on to develop NEC.
NEC is a devastating gastrointestinal disease which primarily impacts premature babies. It occurs when harmful bacteria breaches the walls of the intestines. If left untreated, it can cause that tissue to die, resulting in intestinal perforations. These perforations allow bacteria to leak into the abdomen or infiltrate the bloodstream. This can lead to such outcomes as life-threatening infections, narrowing of the intestines, short bowel syndrome, developmental delays and a failure to thrive.
NEC often results in the need for emergency surgery while the baby is still in the NICU and many infants do not survive NEC and the complications that are associated with NEC..
Baby Formulas Implicated in NEC Litigation
Only Abbott Labs and Mead Johnson have been named defendants in NEC litigation so far. However, about 80 percent of all infant formulas are made from cow's milk.
If you have purchased Similac or Enfamil infant formula from these defendants or have reason to believe they were fed to your infant while under hospital care, you should contact a product liability attorney at the earliest opportunity.
Have These Products Been Recalled?
Neither Similac, Enfamil, nor any other baby formula containing bovine milk has been subject to recalls. The current litigation is limited to the use of these formulas for feeding premature and underweight infants. An Abbott facility in Michigan was ordered closed by the US Food and Drug Administration over concerns of bacterial contamination, but this is unrelated to the current lawsuits.
Tags: baby formula &nbsp Enfamil &nbsp necrotizing enterocolitis &nbsp Similac &nbsp