3M Combat Arms Earplugs Lawsuit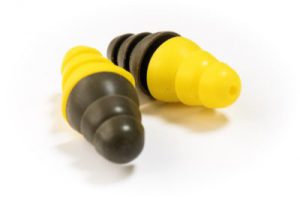 Design problems with 3M Combat Arms earplugs issued by the U.S. military between 2003 and 2015 may have left soldiers and veterans with permanent hearing damage.
STATUS OF MILITARY EARPLUG LAWSUITS: Financial compensation may be available through a 3M Combat Arms earplugs lawsuit for individuals diagnosed with hearing loss or tinnitus after military service between 2003 and 2015.
OVERVIEW OF EARPLUG PROBLEMS: Combat Arms Earplugs, Version 2 (CAEv2) have been issued by the U.S. Military for each deployed soldier between 2003 and late 2015.
The dual-end or reversible earplugs were used during training and on the battlefield to provide ear protection during service. However, design defects may cause the earplug to imperceptibly loosen in the ear canal, rendering the earplugs useless or less effective.
Aearo Technologies first developed and tested the Combat Arms Earplugs in 2000, and began selling them to the U.S. Defense Logistics Agency in late 2003, at which time they became standard issue.
3M Company acquired Aearo in 2008, and continued to sell the earplugs to the military until at least 2015.
COMBAT ARMS EARPLUGS SETTLEMENT: In July 2018, the U.S. Department of Justice reached a $9.1 million settlement with 3M Company over the Combat Arms earplugs, resolving claims that the manufacturer committed fraud by knowingly selling defective earplugs to the government.
According to allegations raised in a 3M earplug lawsuit that led to the settlement:
CAEv2 design defects cause the earplug to imperceptibly loosen in users ears over time, which was not disclosed to the U.S. government or end users;
3M Company provided false and inaccurate noise reduction ratings (NRR) for the earplugs, which employed testing methods that did not comply with required or accepted standards;
Combat Arms noise reduction ratings listed on the packaging materials and instructions failed to accurately reflect the true characteristics of the earplugs.
The Justice Department found that the earplugs were too short to fit in many ears and imperceptibly would move out of place, making them ineffective. In addition, critics say neither 3M nor Aearo provided proper use instructions to soldiers, which should have told the wearers to fold back the flanges on the open end of the plug before inserting the closed end into their ears so that they properly fit.
COMBAT ARMS EARPLUG HEARING LOSS CLAIMS: Nearly three million U.S. veterans currently receive benefits for hearing loss or tinnitus (ringing in the ears). Symptoms may include:
Listening to television and radio at high volumes
Trouble understanding speech, particularly in noisy environments
Often asking people to repeat themselves
Needing a hearing aid
As a result of the manufacturers' failure to properly test the effectiveness and fit of Combat Arms earplugs, lawsuits have been filed to obtain financial compensation for military personnel who were left with hearing loss or tinnitus.
If proper testing had been conducted and adequate warnings provided about problems with the earplugs, it is unlikely they would have been standard issue to military personnel, and hundreds of thousands, potentially millions, of cases of hearing damage could have been avoided.