Philips Respiratory Device Lawsuits
Nature of Action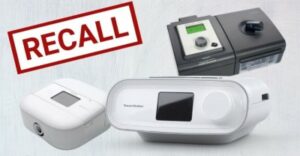 This consumer class action arises out of the Defendant's failure to notify users about the life threatening health risks associated with continued use of its respiratory devices.
On April 26, 2021 PHILIPS disclosed in its First Quarter Report to shareholders under the banner "Regulatory Update" that device user reports had led to a discovery that the type of Polyester-based Polyurethane ("PE-PUR") foam Philips used to minimize noise in several CPAP and Bi-Level PAP respirators and mechanical ventilators posed health risks to its users. Specifically, Philips disclosed that "the PE-PUR foam may degrade under certain circumstances, influenced by factors including use of unapproved cleaning methods, such as ozone, and certain environmental conditions involving high humidity and temperature." The manufacturer warned shareholders of "revenue headwinds" as a result.
It wasn't until seven weeks later, on June 14 2021, that Philips announced a recall of numerous models of CPAP and Bi-Level PAP devices as well as a variety of its mechanical ventilators "to address identified potential health risks related to the PE-PUR sound abatement foam component in these devices." Specifically, Philips announced that it had determined that the "PE-PUR foam may degrade into particles which may enter the devices air pathways and be ingested or inhaled by the user, and the foam may off-gas certain chemicals." The complaint alleges that Philips had received complaints about black particles being found in device airway circuits for years prior to announcing the recall.
Recalled devices include –
Recalled CPAP and BiPAP Devices
Device Type
Model Name and Number
Continuous Ventilator, Non-life Supporting
- E30 (Emerrgency Use Authorization)
Continuous Ventilator, Non-Life Supporting
- DreamStation ASV
- DreamStation ST, AVAPS
- SystemOne ASV4
- C Series ASV
- C Series S/T and AVAPS
- OmniLab Advanced+

Noncontinous Ventilator
- SystemOne (Q-Series)
- DreamStation
- DreamStation Go
- Dorma 400
- Dorma 500
- REMstar SE Auto
Recalled Ventilators
Device Type
Model Name and Number
Continuous Ventilator
- Trilogy 100
- Trilogy 200
- Garbin Plus, Aeris, LifeVent
Continuous Ventilator, Minimum Ventillatory Support, Facility Use
- A Series BiPAP Hybrid A30
- A Series BiPAP V30 Auto
Continuous Ventilator, Non-life Supporting
- A Series BiPAP A40
- A Series BiPAP A30
Status of Lawsuits
A Class Action Complaint was filed on July 23 2021 in United States District Court, Western District of Pennsylvania against the Defendants on behalf of the Plaintiffs and others similarly situated.
The Class Action seeks to recover all damages suffered by consumers who purchased the recalled devices and have Philips replace them free of charge with safe and effective devices. In addition, the Class is seeking medical monitoring damages for users of Defendant's recalled devices who are at risk of suffering from serious injury, including irritation (skin, eye, and respiratory tract), inflammatory response, headache, asthma, adverse effects to other organs (e.g., kidneys and liver) and toxic carcinogenic affects.
Defendants
The Defendants in this lawsuit are –
Koninkluke Philips N.V.;
Philips North America LLC;
Philips RS North America LLC.
Overview
Class action lawsuits have been filed against the Dutch medical equipment companies noted above to protect consumers harmed by Philips recalled sleep apnea machines, including CPAP and BiPAP machines, and ventilators, which may increase users' risk of cancer and cause other injuries.
The recalled products contain polyester-based polyurethane (PE-PUR) foam for sound abatement. It has now been revealed that the PE-PUR foam may break down and be inhaled or ingested and may emit volatile organic compounds (VOCs) resulting in adverse effects to organs and cancers. In an announcement to doctors, Philips explained that these hazards could result in "serious injury which can be life-threatening or cause permanent impairment."
The complaint alleges that Philips knew about these substantial and material risks from its CPAP machines long before the recall. The complaint also alleges that patients who used the affected devices have complained to Philips about black particles in their machines for many years.
It is noteworthy that Philips chose to first warn shareholders about revenue headwinds arising from "regulatory" issues before issuing a recall notice to the public seven weeks later.
Tags: BiPAP Cancer Class Action Lawsuit CPAP Medical Device Recall Particulate Matter Philips Respiratory Sleep Apnea Ventilator