Philadelphia Jury Clears J&J In Talc Cancer Case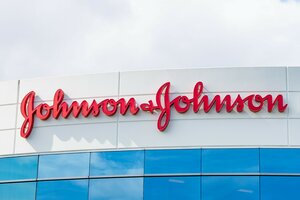 The first case in Philadelphia over alleged health risks associated with Johnson & Johnson's signature talcum powder came to an end Friday as a state jury cleared the company of claims that its product contributed to a woman's ovarian cancer diagnosis.
A Philadelphia jury cleared Johnson & Johnson on Friday of claims its talcum powder contributed to a woman's case of ovarian cancer.
The jurors rejected arguments from Ellen Kleiner and her husband that J&J's talcum powder had been a contributing factor in a case of ovarian cancer she was diagnosed with in June 2011 after using the product for more than three decades.
The jury returned its verdict shortly before noon on Friday after spending about two full days deliberating nearly five weeks' worth of evidence.
According to her attorneys, Kleiner's cancer had spread into her abdomen by the time she was diagnosed, and she was forced to undergo six rounds of aggressive chemotherapy and two operations to remove her reproductive organs.
Kleiner alleged J&J knew about potential links between talcum powder and cancer cases dating back to the 1940s, but that it had failed to warn the public about the risks.
Defense counsel, meanwhile, said that scientific, medical and regulatory authorities had all rejected potential links between talcum powder and incidents of ovarian cancer.
In court filings, J&J's legal team pointed to other complicating factors that could have contributed to Kleiner's cancer, including her Ashkenazi Jewish descent.
Jurors in Kleiner's case ultimately agreed that J&J's product was not responsible for contributing to Kleiner's cancer diagnosis.
But even as the jury returned a defense verdict in the case, counsel for the plaintiffs vowed to pursue an appeal to have the outcome overturned.
Tags: Cancer &nbsp Johnson & Johnsion &nbsp Talc &nbsp Talcum Powder &nbsp