Proton Pump Inhibitor Lawsuits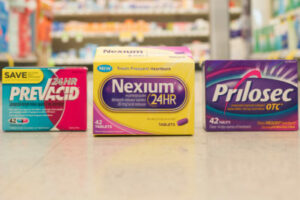 Side effects of Nexium, Prilosec and other heartburn and acid reflux medications have been linked to a number of serious risks, including kidney damage and stomach cancer. Several cases are being pursued over failure to adequately warn users and the medical community about these potential risks.
ACID REFLUX DRUG LAWSUIT STATUS:: Product liability lawyers are reviewing potential Nexium lawsuits, Prilosec lawsuits and other claims involving side effects of acid reflux drugs known as proton pump inhibitors (PPI). Potential claims are being reviewed for users who suffered any of the following injuries:
Acute Kidney Injury
Acute Interstitial Nephritis
Chronic Kidney Disease
Kidney or Renal Failure
As a result of the drug makers' failure to warn about the link between acid reflux drugs and kidney problems, financial compensation may be available for users of any of the following proton pump inhibitors:
Nexium
Prilosec
Dexilant
Protonix
Prevacid
AcipHex
Vimovo
Zegarid
>>SUBMIT INFO TO AN ACID REFLUX DRUG LAWYER<<
OVERVIEW: Proton pump inhibitors (PPI) are a popular class of medications used to reduce the amount of acid in the stomach, treating gastroesophageal reflux disease (GERD), heartburn, acid reflux, ulcers in the stomach and small intestines and inflammation of the esophagus.
The class of medications includes some of the most widely used drugs in the United States, with brand-name, generic and over-the-counter versions of Nexium, Prilosec and other drugs generating over $14 billion in annual sales.
The medications have been aggressively promoted as safe and effective, suggesting that users face little risk of side effects from Nexium, Prilosec or other acid reflux drugs. However, a number of studies have suggested that users may face a potential risk of kidney injury, kidney disease or kidney failure.
In 2014, nearly three years after a petition by Public Citizen's, the advocacy group filed a lawsuit against the FDA claiming that they failed to act in a timely manner and therefore further endangered the lives of millions who take PPI drugs on a regular basis.
Finally, with the threat of a lawsuit at hand, the FDA acknowledged Public Citizens' requests and in December 2014, required changes on the labels of Nexium and Prilosec, as well as other PPIs, including Protonix, Prevacid, Dexilant, Zegerid and Aciphex, and their generic counterparts. However, it appears that the manufacturers knew or should have known about the potential kidney risks with acid reflux drugs and failed to provide adequate warnings and information.
A study published in July 2017 indicated that prolonged use of PPIs carried a 25% increased risk of death, when compared to other types of heartburn drugs.
NEXIUM KIDNEY INJURY RISK: In April 2015, a study published in the medical journal CMAJ Open indicated that Nexium, Prilosec and other proton pump inhibitors are an under appreciated cause of acute kidney injury, finding that some users may be 2.5 times more likely to develop this condition that involves abrupt loss of kidney function.
Researchers warned about the link between acid reflux drugs and kidney injury, indicating that the condition may not be readily attributed to the treatment.
The study involved a review of data on 300,000 people aged 66 and older who started acid reflux treatment with a proton pump inhibitor from April 2002 to November 2011. Elderly users were found to be more likely to suffer acute kidney injury on Nexium, Prilosec or another PPI, when compared to users who were not taking the drug. Similarly, the risk of acute interstitial nephritis from the acid reflux drugs was tripled for those users.
Another study, published in February 2017, found that Nexium, Prilosec and other proton pump inhibitors were associated with an increased risk of kidney disease and kidney failure, even among individuals who do not experience an acute kidney injury (AKI) first.
CHRONIC KIDNEY DISEASE FROM PPI ACID REFLUX DRUGS: In January 2016, a study published in the medical journal JAMA Internal Medicine examined whether this popular class of drugs may also increase the risk of chronic kidney disease, which is a longer-term condition that may lead to kidney failure and the need for dialysis treatment or a kidney transplant.
Researchers reviewed data on 10,482 participants in the Atherosclerosis Risk in Communities study from February 1996 to December 2011, looking at self-reported heartburn drug use and outpatient prescriptions.
The study found that there was a 45% increased risk of chronic kidney disease with proton pump inhibitors (PPI).
Another study, presented at a conference in November 2017, warned that PPIs appear to increase the risk of chronic kidney disease and kidney failure by one-third.
PPI GASTRIC CANCER RISKS: A number of recent studies have also linked Nexium and other PPIs with an increased risk of gastric cancer.
Two of those studies were published within hours of each other. One, by researchers from Sweden, published on The BMJ Open on October 30, 2017, found that people on long-term PPI "maintenance therapy" were at three times the risk of a gastric cancer diagnosis.
A day later, a study published in the medical journal Gut by researchers from Hong Kong warned that drugs like Nexium and Prilosec doubled the risk of gastric cancer. In addition, the study found that patients with Helicobacter pylori infections were at an increased risk, and that the longer individuals took PPIs, the higher their risk of gastric cancer.
NEXIUM BONE PROBLEMS: In May 2010, the FDA warned that there may be increased risk of bone fracture from prescription strength heartburn drugs like Nexium. The FDA required an update to the warning label about the risk of fractures from Nexium and other drugs in the class. FDA investigators determined that the risk of fractures is dose-specific and have not applied the Nexium bone fracture warning requirements to the over-the-counter versions of Nexium or similar PPIs.
Although multiple studies suggested that users may face an increased risk of bone problems from Nexium, AstraZeneca continued to market the medication without warning about the risk of bone deterioration, osteoporosis or fractures, according to allegations raised in several Nexium bone fracture lawsuits filed around that time.
Other recent studies have linked PPIs to an increased risk of gastric lesions and pancreatic cancer.
In August 2017, all PPI injury lawsuits were consolidated for pretrial proceedings as part of an MDL, or multidistrict litigation, in New Jersey federal court.
Tags: Esomeprazole Nexium Prevacid Prilosec Protonix Vimovo Zegerid