Hyundai and Kia Anti Lock Braking Modules Spontaneously Catch Fire – Lawsuit Featured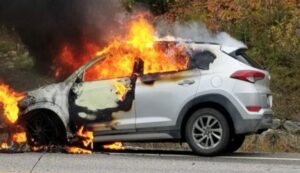 According to a recently filed lawsuit, the Anti-Lock Braking modules used in a number of Hyundai and Kia vehicles manufactured as early as 2006 are defective and prone to spontaneously catch fire.
Spontaneous engine fires can occur while a vehicle is in operation or while parked. This poses a significant risk of bodily injury to the vehicle owner and motoring public as well as an insurance risk due to property damage.
The lawsuit claims the design of the ABS module is such that it traps moisture. The trapped moisture may facilitate a short-circuit and cause a fire. Because the module maintains an electrical charge at all times, a short-circuit event may occur at any time whether a vehicle is being driven or not.
Hyundai and Kia have known about the ABS module defect for many years yet chose to conceal it from consumers and the public. According to the complaint, the National Highway Traffic Safety Administration ("NHTSA") began receiving complaints about fire risks associated with Kia and Hyundai vehicles as early as 2011.
Given the numerous complaints and reports of vehicle fires since, Hyundai and Kia began to selectively recall certain vehicle and model years at various times but never addressed the true scope of affected vehicles, the leaking of moisture in the ABS module, or that the ABS module holds a continuous electrical charge.
According to the lawsuit, Defendants Hyundai and Kia have failed to offer a remedy for the ABS defect at no cost to the owner, even though the defect was present at the time of sale. Nor have the Defendants offered to reimburse owners and lessees for out of pocket expenses, diminution in value, loss of use, or loss of time.
The lawsuit alleges that the Defendants misconduct violates the consumer protections laws of various states and constitutes a breach of Defendants warranty obligations. Plaintiffs are seeking damages, injunctive, and all other appropriate relief.
Hyundai / Kia Vehicle Class
| Make | Model | Year |
| --- | --- | --- |
| Hyundai | Azera | 2006-2011 |
| Hyundai | Elantra | 2007-2010 |
| Hyundai | Elantra Touring | 2009-2011 |
| Hyundai | Entourage | 2007-2008 |
| Hyundai | Genesis | 2015-2016 |
| Hyundai | Genesis G80 | 2017-2020 |
| Hyundai | Santa Fe | 2007; 2016-2018 |
| Hyundai | Santa Fe Sport | 2013-2015; 2017-2018 |
| Hyundai | Santa Fe XL | 2019 |
| Hyundai | Sonata | 2006 |
| Hyundai | Tucson | 2014-2021 |
| Kia | Cadenza | 2017-2019 |
| Kia | K900 | 2016-2018 |
| Kia | Optima | 2013-2015 |
| Kia | Sedona | 2006-2010 |
| Kia | Sorento | 2007-2009; 2014-2015 |
| Kia | Sportage | 2008-2009; 2014-2021 |
| Kia | Stinger | 2018-2021 |
Tags: ABS ABS module &nbsp anti-lock braking &nbsp Breach of Warranty &nbsp engine fire &nbsp fire risk &nbsp fire-hazard &nbsp Hyundai &nbsp Kia &nbsp