Ethylene Oxide Exposure Lawsuit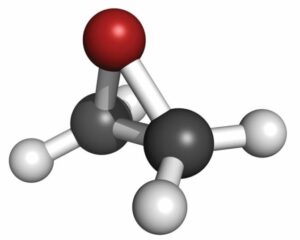 Hundreds of lawsuits have been filed against companies operating ethylene oxide plants whose emissions have caused area residents to suffer serious health problems.
Ethylene oxide is a gas commonly used in the manufacture of other chemical compounds as well as the sterilization of some medical equipment. But ethylene oxide is acknowledged as a known human carcinogen (cancer-causing compound or substance) in high concentrations and over long periods of exposure. The chemical has been linked to non-Hodgkin lymphoma, leukemia, multiple myeloma, and breast cancer, among many other cancers and physical ailments.
Invisible Odorless Killer
When ethylene oxide is discharged into the atmosphere, it has no color and no smell. According to the EPA, this gas can remain in the air as long as 149 days in colder weather or 69 days in warmer, more humid weather.
As this gas is blown about by the wind, it seeps into human bodies through inhalation. In large enough quantities, ethylene oxide will destroy DNA and damage cells. If enough cells are harmed, cancer can form.
Ethylene oxide gas has also been linked to:
Blood disorders
Kidney cancer
Lung cancer
Brain tumors
Uterine cancer
Pancreatic cancer
Stomach cancer
Testicular damage
Kidney damage
Ailments and illnesses like the above may be the result of prolonged ethylene oxide contamination.
Hundreds of thousands of citizens exposed daily to this toxin
Americans living in close proximity to or working in certain industrial plants have contracted cancers such as non-Hodgkin lymphoma due to ethylene oxide contamination in the air. With that in mind, here are the affected cities, based on public data:
Hahnville, LA – Union Carbide
Plaquemines, LA – Dow Chemical
Plaquemines, LA – INEOS Oxide, Axiall LLC
St. Gabriel, LA – Taminco/Eastman
Institute, WV – Union Carbide
S. Charleston, WV – Union Carbide
S. Charleston, WV – Bayer
Lehigh, PA – B Braun Medical Facility
Lakewood, CO – Terumo BCT
Willowbrook, IL – Sterigenics
Waukegan, IL – Medline Industries
Santa Theresa, NM – Sterigenics
Anasco, PR – Edwards Lifessciences
Covington, GA – CR Bard
Smyrna, GA – Sterigenics
Washington, NJ – BASF Plant
New Castle, DE – Croda Inc
Jackson, MO – Midwestern Sterilization
Know your rights
If you have ever lived in any of the above cities and have been diagnosed with any of the above listed cancers or blood disorders, you may be eligible for compensation. To learn more about your rights, please contact one of our lawyers.