Chevy and Buick Engine Defects Spur Authorities To Investigate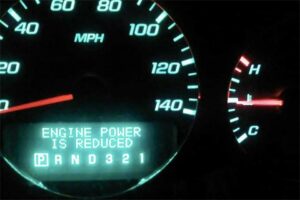 The National Highway Traffic Safety Administration (NHTSA) has received numerous consumer complaints from Chevy Malibu and Buick owners detailing a message on their dashboard while driving moments before losing speed which reads "Engine Power is Reduced.." Upon seeing this message, the car's speed is forcibly reduced and drivers report being unable to drive above a certain MPH.
Owners who reported this issue state that pulling over the vehicle and turning it off provides a temporary remedy, but that the problem has a likelihood of re-occurring. Further, owners who have sought to resolve this problem have had to pay the dealership out of pocket to replace defective components.
This is a potential safety issue since drivers report that the message and loss of acceleration has occurred while they were on the highway, leaving them with little time to get to the shoulder and restart the vehicle.
It seems authorities at the NHTSA agree and said they are officially launching a probe into Chevy's Malibu and Buick's LaCrosse and Regal unit models after reviewing numerous complaints about very low or absent engine power, sudden deceleration, unresponsive engine throttle and the safety hazard they impose on the motoring public..
Legal Experts Launch Investigation Into Certain Buick and Chevy Engine Issues
Owners of defective vehicles may be qualified to join an ongoing assessment of cases in the event a class action lawsuit is filed in this case.
Qualifications
You own or drive any of the following car make and models and have noticed or experienced engine defects ranging from very low engine power to low throttle response rates while using your car:

Buick LaCrosse (2017 and 2018 model years)
Buick Regal (2018 model year)
Chevy Malibu (2016, 2017, 2018, 2019 model years)
Tags: Buick LaCrosse &nbsp Buick Regal &nbsp Chevy Malibu &nbsp Engine Defect &nbsp NHTSA Investigation &nbsp